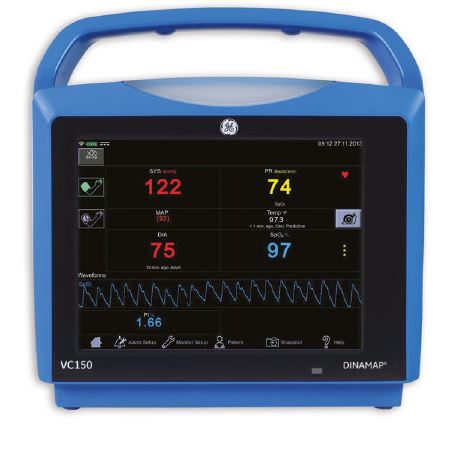 CARESCAPE VC150 with Nellcor SpO₂
2068593-004
Patient Monitoring
Vital Signs Monitors
Add to Wish List
Login To Shop
Login To Shop
Description:
Compatible Products
CARESCAPE VC150 with Nelcor SpO2 on a workstation rollstand
The CARESCAPE* VC150 monitor is designed for care areas where patients require vital signs measurements.


Product Features:
Can be used for spot-checking or for continuous monitoring, providing you the flexibility of a "2 in 1" device
Designed for adult, pediatric and neonatal use with auto inflation sensing as well as patients with very low perfusion rates SPO2 waveforms and Perfusion index with optional Nellcor peripheral respiratory rate technology
Non-invasive blood pressure measurement uses GE's exceptional DINAMAP* technology
Allows for inflation setpoints, so you can be sensitive to patients' special circumstances and ensure their comfort
Large configurable touch screen display makes it easy to read even from a distance
Stores up to 3000 measurements including snapshot creation



Technical Specifications:
SuperSTAT NIBP algorithm
Nellcor* SpO2
Dimensions (H x W x D) 24.7 x 24.2 x 13.6 cm cm
Weight 2.8 kg including 11 hour battery
Warranty: 2-year parts and labor warranty.
Portability Carried by recessed handle or on a roll stand
Includes: Nellcor Cable & Sensor, Adult Dura-Cuf, 12 ft Hose, Dinaclick NIBP hose, Ops Manual, Service CD,

Installation & Training:
For further in-depth information, please refer to the operator's manual.
The CARESCAPE* VC150 vital signs monitor with a robust "Touch Screen" monitor that not only offers the clinical excellence that you come to expect from a GE device, but now seamless EMR connectivity that enables the nurse to focus more on patient care and not on documentation. . Designed for easy maintenance Simple capabilities and remote serviceability help reduce monitor downtime and enable better use of biomed resources.
This part may be compatible with the following systems. You should check your owner's manual to confirm.